Holme Highlights
Holme Highlights
LITERACY AND MATH HELP FOR PARENTS
Despite having received over 30 rsvp's, we still had a low turn-out of participant for the Family Literacy Night on January 23rd. However, the families that attended all agreed they had a great time of learning and many questions were answered in a very relaxed setting as a 'chat and chew'.   We will continue to move forward to offer additional activities for parents, guardians and students to help foster the growth mindset in our children.
The next Literacy Night is February 22nd and this will launch our One Book, One School event. Everyone will receive a copy of the book, The One and Only Ivan. Ivan, a gorilla, is also the narrator of this easy reading story. He tells about his life in captivity in an entertaining and emotional way. For older students this will be an easy, fun to read book with activities to follow. For younger students and their parents, this is a great book to read to your child and have a good time together completing the activities that are sent home a couple of times each week.
Whether you are reading with your child or reading to your child, you are still making reading a family event. Come on out on February 22nd and get your book as well as experience some of the activities with other families.
PARENT AND CHILD PIANO LESSONS POWERED BY LANG LANG
The first recital for the Thomas Holme Piano Club was a huge success. Parents and students have been participating for 8 weeks in an after school piano club that was made possible by the Keys of Inspiration Grant, through the Lang Lang International Music Foundation. In addition to giving the school 36, state-of-the-art, 88-key, Roland Keyboards, and the accessories to make them professional grade, the Keys of Inspiration program also provided funding for the after school piano club. The focus of the club was to bring parents and students together to learn high-quality piano technique. Piano club also gives students and parents something to bond over, and shows them in a direct way how hard work pays off. The recital was the culmination of this club and allowed each family to demonstrate their best piano skills that they learned. As each performance got up to perform, the audience was very respectful of all their hard-work, and the performers bowed at the end of each performance. The recital had a "music conservatory" feeling as the audience applauded each performer for their hard work. Every performer got the same sense of "nerves" from performing in front of an audience, but every performer was able to conquer their anxiety and successfully complete their performance without stopping.  The parents were gracious enough to bring refreshments, and all the families got to enjoy a tasty snack after the recital. In the future the piano club is expecting to provide each participating family with a 76-key Yamaha keyboard that they can borrow to practice at their home. The piano club will be on hiatus until April 10th, but in the interim Mr. Petit is working to find additional sources for piano instruction for all of the students interested.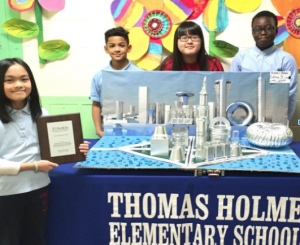 FUTURE ENGINEERS COMPETITION
Students from Thomas Holme Elementary worked with their Digital Literacy instructor, Lori Abernethy and their engineering mentor, Matthew Sherwood (an engineer from Louis Rodriguez Consulting) to compete at the Philadelphia Regional Future City Competition in Radnor, Pennsylvania on Saturday, January 20, 2018.  Students worked together to create a scale model of their "future city" that showcased what they had learned about engineering.  Students were awarded  "Best Moving Part" by the Society of Mechanical Engineers.