Holme Highlights
Phase 1 of Return to School
In mid-October, Superintendent Dr. Hite announced the district's plan to transition to a blend of face to face and virtual learning called 'hybrid'. A few highlights of that plan are as follows: A Slow, Phased Approach – the plan phases in groups of students slowly.
● Phase 1 will phase in our PreK-2 students on November 30.
● Students with complex needs in grades 3-12 will phase in in January (Phase 2),
● then 9th grade and CTE students will follow later in January (Phase 3), as long as monitoring of school health and safety practices and COVID-19 conditions support it is safe to do so.
● FAMILY CHOICE- During the week of October 26-30th parents were asked to make known their choice between hybrid learning or all digital learning remotely for their child.
● A Staggered Schedule – most hybrid learning students will follow an AA/BB schedule (Monday and Tuesday in person for the A group, Wednesday all-digital for everyone, Thursday and Friday in person for the B group) to limit the number of students in school buildings each day and help maintain social distancing requirements.
● Next Steps: Our teachers in grades Prek-2 will receive additional projecting and audio equipment that allows them to teach from their classrooms with a small group of students while simultaneously engaging the virtual students who are still at home. This training is due to take place beginning November 16 in preparation for the November 30th reopening.
Winter Break Goodies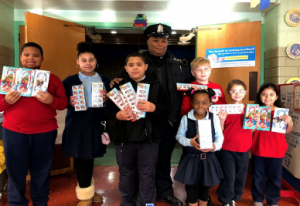 Officer Ragland has been coming to Thomas Holme for over three years servicing the students' knowledge of good decision making, and conflict resolution so as to avoid students' involvement in delinquency, gangs and youth violence.
Thanks to Officer Ragland and his brothers in blue from the 8th district, the students received much more in their snack bags for winter break than previously expected. He arrived at Holme on December 16th with boxes and boxes of goodies to add to the students' break bags. Officer Ragland says he loves coming to Holme and couldn't wait to surprise the students.