Holme Highlights
Thomas Holme Families Step Up Big for the Pennies for Patients Campaign 2020
I have had the privilege of sponsoring Thomas Holme's annual Pennies for Patients Campaign for the last 10 years and our generous students and their families never cease to amaze me.  This year our students raised an astounding $3649.93! Ms. Young's class raised a class average of $26.00 per student with Ms. Troy's class following close behind with $22.96 per student.  An honorable mention goes to Mr. Olson and Ms. Diegel's classrooms who were in 3rd and 4th place. Ms. Young's class will enjoy an Olive Garden lunch delivered to their classroom in the near future and Ms. Troy's class will have a pizza party.  All four of our top classes will enjoy cupcakes. Money raised through Pennies for Patients gets invested in groundbreaking cancer research, patient education and support services, and advocacy efforts aimed at making treatments more accessible and affordable for families.  Great job Thomas Holme for supporting those in need!
L. Abernethy
Winter Break Goodies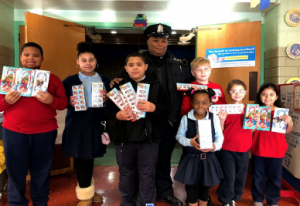 Officer Ragland has been coming to Thomas Holme for over three years servicing the students' knowledge of good decision making, and conflict resolution so as to avoid students' involvement in delinquency, gangs and youth violence.
Thanks to Officer Ragland and his brothers in blue from the 8th district, the students received much more in their snack bags for winter break than previously expected. He arrived at Holme on December 16th with boxes and boxes of goodies to add to the students' break bags. Officer Ragland says he loves coming to Holme and couldn't wait to surprise the students.